ABOUT US
WE ARE JUST A HANDFUL OF NORMAL FOLKS WHO LOVE GREAT DANES AND WOULD DO ANYTHING FOR THE BREED.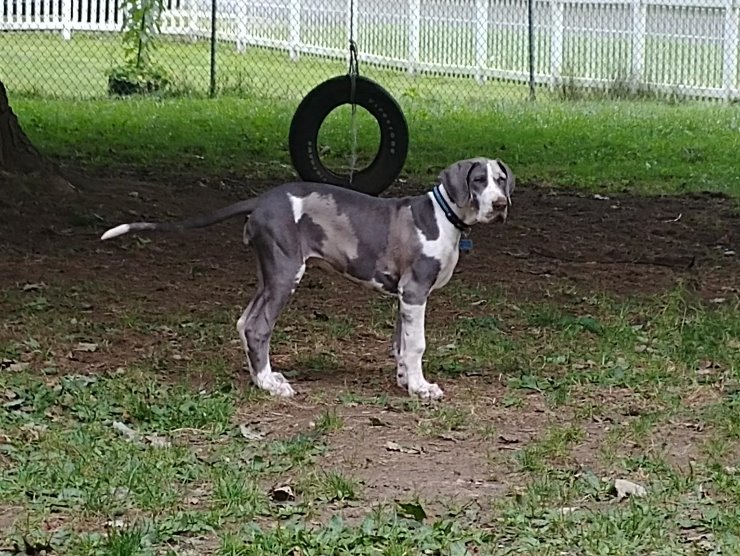 OUR MISSION
We here at PGDR aim to provide the best care and placement possible for any and all dogs that find themselves at our doorstep in need.
Our Vision
We envision a world where the need to rescue Danes no longer exists but as that will never be...we will strive to change lives one dog at a time.
Our Values
*Honesty in providing future owners of any and all details we have on any available dogs to ensure proper placement.
*We pride ourselves on having a high level of integrity.
*Unconditional love to each and every dog that comes through our rescue. *Commitment to providing the best possible out come for these dogs and future adopters.
Our Goal
To help every dog that we obtain to the best of our abilities in placing them in homes that will last them the rest of their lives, we want these dogs to receive the level of love and dedication that they show us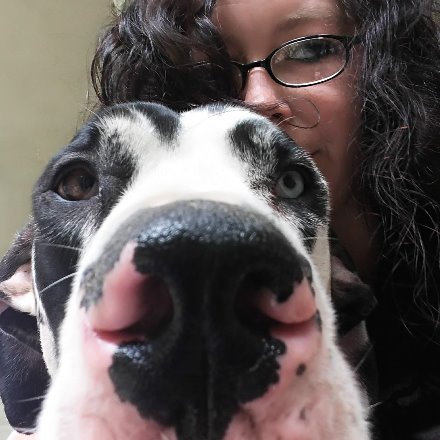 Terri Preisel
Hello! I am the President of PGDR&R.
I am a mother of two, who help with every foster I have in my house. I am also a full time Vet Tech. and a part time behaviorist. We have 3 personal Danes, and a corgi (honorary mini dane), they are the gems of our household. The kids and my lives completely revolve around our animals. There are 7 of us on the Board but countless other help get these babies into homes!
Kasarah Emery
Hello! I am the Vice President of PGDR&R.
I am a mother of two and a full time postal worker. I have my big blue girl who started this journey for us. The first we have ever adopted. My sister Terri and I took the rescue over late 2017. Our entire lives we have had Danes. We are now doing everything we can to make sure every one can enjoy these dogs. Saving lives one Dane at a time!
Peggi Tedrow
Hello! I am the Treasurer of PGDR&R.
I am mom of two adult children. My passion is my animals. This all started for me with a trip to the vet, enquiring about a puppy, when Terri asked have you thought about a Great Dane. She was so right when she said there is no love like Dane love! I am the proud fur-momma to 2 beautiful Dane girls and an honorary Dane that's actually a 6lb Yorkie-Poo.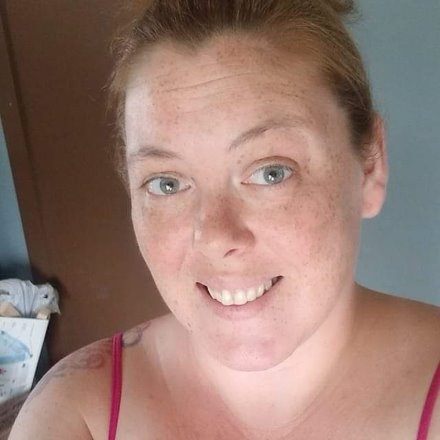 Brittany Shaffer
Hello! I am the Secratary for PGDR&R.
I am a mother of two little boys. I am a Security Assisant. I have always had and loved dogs. I feel like this is a great way to give back and to make sure these dogs are loved and find thier happily Fur-ever after!


Donna Davis
Hello! I am the Accountant for PGDR&R.
I am the mother of two adult children and 3 Grandchildren. We have had Great Danes in our home for decades. We currently have two Danes and a Husky along with a horse. I work full time as an accountant and i enjoy working with PGDR&R to further benefit dogs in need.
PLEDGE YOUR SUPPORT
WE PROVIDE ADOPTIONS, SURRENDERS, RESCUE, MEDICAL REHAB, AND EDUCATION OF THE BREED!
CHECK OUT OUR PROCESS AND START LOOKING FOR YOUR NEW BEST FUR-EVER FRIEND!
TO ORDER ANYTHING BELOW PLEASE GO TO OUR FACEBOOK AND MESSAGE YOUR ORDER WITH ATTENTION ASHLEE PEGG.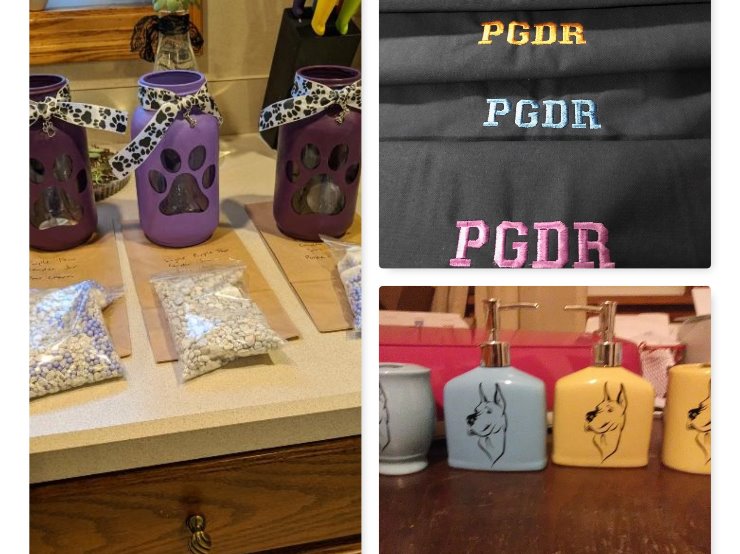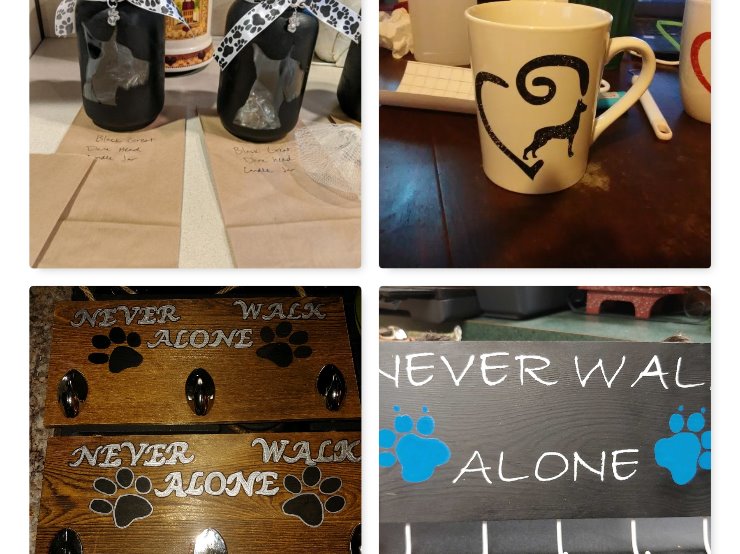 DONATE TODAY
Please support your local rescues and shelters. Every cent counts in saving lives. We have ….
Totes, all new designs from Danes, our letters, to paw prints
GUESS WHAT ALL OUR NEW T-SHIRT AND HOODIE DESIGNS ARE IN!!!!!!!!!!!!!!!!!!!!!!!!!!!!!!!!!!!!!!!!!!!!!!!!!!!!!!!!!!!!!

Tank tops made to order
Bandana's (slip collar through kind)
Cups, Candle holders, Leash /Coat hangers
And so much more contact us on how to purchase these items. We hand make everything and 100% of the proceeds go to the rescue!
PLEASE READ ALL CAPTIONS ABOVE THE BUTTONS TO DOWNLOAD AND SUBMIT YOUR PAPERWORK THIS IS ESSENTIAL AND HELPS US SAVE ON TIME. THANK YOU!
OUR ADOPTION PROCESS IS SIMPLE, FILL OUT AN APPLICATION, CONTACT US TO LET US KNOW, THEN WE CHECK OUT YOUR HOME, REFERENCES, VET CHECK, AND WE START PAIRING YOU WITH A DOG! THE PROCESS TAKES 2-14 DAYS. Please feel free to contact us if you do not receive a call in the allotted time frame! To speed along the process please contact your vet to give us permission to access records, and send in your home photos. Or schedule your virtaul home check. PLEASE ALSO INCLUDE THE FOSTER TO ADOPT BELOW, IT IS OUR NEW POLICY.
This give you the chance to try a dog in your home before making the commitment. But this option is so valuable to us because while you are making your choice it gives us the space and chance to save another life.
When surrendering a dog we will need the following paperwork along with a copy of your vet records...
IF YOU LIVE OUT OF THE STATE OF PA, LAW REQUIRES A RABIES AND HEALTH CERTIFICATE BEFORE CROSSING STATE LINES.

We require a current Rabies and DA2PPvL vaccines.

If you are having financial troubles with the vet bill to get your dog into rescue, speak with one of volunteers about help in that area.
We have a protocol for all surrenders, all need to have a surrender form emailed with proper paperwork, also we do preplacement evaluations to make sure of proper placement. We do not permit surrender to be connected to adopter for privacy reasons. When you are surrendering your dog we encourage you to check in on your dog we will happily send you pictures and updates!!
Please remember we are foster based. These dogs are going into volunteer homes and we have to protect them as well as their animals, as soon as they leave our intake facility!
WE HAVE BEEN DONATED THE LABOR ON A 12X20 BUILDING FOR INTAKE. THIS IS WHERE WE WILL UPDATE VACCINES, REHAB, RECOVERY FROM SURGERY AND MONITOR BEHAVIORS. BEFORE RELEASING THEM TO FOSTERS AND ADOPTERS.
WE HAVE IT UP AND DONE, BUT THE COST OF MATERIALS, SUPPLIES, REPAIRS HAVE BEEN QUITE DRAINING. EVERY BAG OF FOOD, TOY, TOWEL, BLANKET, AND PENNY HELPS SO MUCH AND MEANS THE WORLD TO US AND THESE DOGS.
OUR BUILDING
IT IS A 20X12 CLIMATE CONTROLLED BUILDING WITH FOUR KENNELS WITH INDOOR/OUTDOOR RUNS.
OUR FENCE
CHECK OUT OUR LARGE OUTDOOR POTTY AREA'S, DIRECTLY CONNECTED TO THE HEATED/COOLED ENTERIOR KENNEL.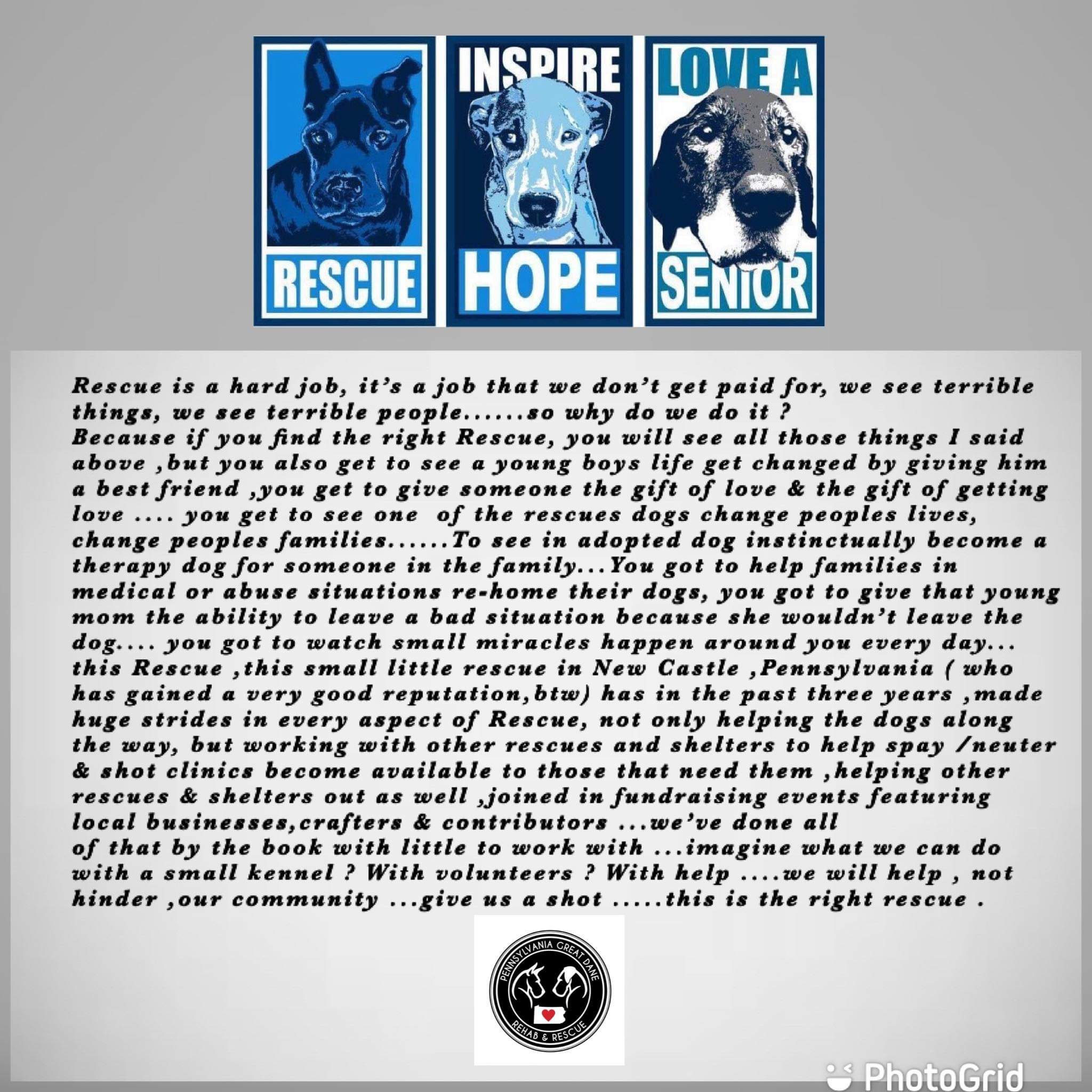 OUR ADOPTABLES!
PLEASE CLICK ON PHOTO'S BELOW FOR FULL BIO'S
PLEASE UNDERSTAND WE HAVE A PREAPPROVED ADOPTER SYSTEM. THE DOGS YOU SEE BELOW ARE DOGS THAT WE DO NOT HAVE AN ALREADY APPROVED APPLICATION THAT FITS THIS DOGS NEEDS. WE HAVE DOGS THAT COME IN, GO THROUGH THE PROCESS AND HAVE MULTIPLE APPLICATIONS THAT FIT THEM. THESE BELOW ARE THE ONES WE NEED HELP WITH.
WE HAVE DANES COMING IN EVERY DAY IF OUR PHOTO GALLERY IS EMPTY DONT GET DISCOURAGED WE ALWAYS HAVE DOGS IN NEED OF A LOVING HOME, BUT WE WORK FROM A PREAPPROVED ADOPTER LIST. PLEASE FILL OUT AN APPLICATION AND GET APPROVED. WE TRY TO MATCH OUR DOGS TO THE BEST FITTING HOMES!!


OUR REHAB CASES (NOT UP FOR ADOPTION)


NYX CAME TO US WITH 5 PUPPIES IN TOW. (ALL HAVE BEEN ADOPTED FROM OUR PREAPPROVED ADOPTER LIST). SHE DID HER BEST TO BE THE BEST DOG AND MOMMA! WE ARE CURRENTLY STARTING HEARTWORM TREATMENTS ON HER. AS YOU KNOW HEARTWORM TREATMENTS ARE EXTREMELY EXPENSIVE. WE NEED YOUR HELP WITH THIS BEAUTY!
WE HAVE SUCCESSFULLY ADMINISTERED HER TREATMENTS, AND SHE IS DOING WELL!!!!!
MUCK CAME TO US WITH SPINAL CORD DAMAGE, HE DOES GREAT WITH AND WITHOUT HIS WHEELCHAIR NOW~~~
WE TAKE HEARTWORM POSITIVE, MEGA E, AMPUTEE'S, SPINAL INJURIES, BIRTH DEFECTS, AND NEGLECT CASES.
ALL REHAB CASES ARE NOT ADOPTABLE UNTIL CLEARED BY A VET.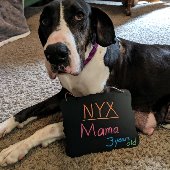 MEET STORM OUR BEAUTIFUL PRE-DOM WHITE HARL. HE HAS TO HAVE MULTIPLE CORRECTIVE EYE SURGERIES, HE IS A BABY BORN WITH MULTIPLE ISSUES. WE JUST WANT TO GIVE HIM SOME IF ANY OF HIS SIGHT BACK.
WE CHOSE STORM AS OUR BACKGROUND, STORM HAS TO HAVE MULTIPLE CORRECTIVE EYE SURGERIES, EVERY PENNY HELPS. PLEASE SHOW YOUR LOVE FOR THOSE EYES!!!!
All these dogs are living the life! Fill out an application and let us start pairing you with a dog!
CHECK
SENT TO
2450 EASTBROOK RD
NEW CASTLE, PA 16105
PLEASE EMAIL TO LET US KNOW ITS COMING
PLEASE INCLUDE MEMO
PLEASE INCLUDE RETURN ADDRESS FOR THANKS TO BE SENT
PHYSICAL
BLANKETS, WIPES, TOWELS, PAPER TOWELS, SUPPLEMENTS
PLEASE VISIT SUBMIT FORM BELOW FOR MORE DETAILS
PLEASE BE PATIENT WITH US, WE ARE ALL VOLUNTEERS. PLEASE GIVE US 2-5 DAYS TO RESPOND. THANK YOU AND WE LOOK FORWARD TO HEARING FROM YOU!